The Minitron, Energizer Bunny, Squirrel and Slottie Pippen of the New England Patriots.
He has gone by many names .. In the wacky year of 2020 he was dubbed Highway 11, now his road to another incredible game has possibly come to an end. Foxboro Forever were his last words in his retirement speech. Julian Edelman is and always will be one of the greatest slot receivers in NFL lore. When the game was on the line he was at his best, which means that every single game he played, he was at his best.
QB's loved him for always seemingly being open when they needed him the most. His team mates as a whole loved him for the player and person he was in the locker room and on the field. Let's not forget the fans love him for being a highlight film of slips, deeks and spectacular catches. Women love him because, well have you seen what he looks like?
*If you want to get his rookie cards, beware of price gouging on EBAY and his rookie cards are 2009 only .. anybody that posts rookie cards marked 2010 is trying to jump on the card train.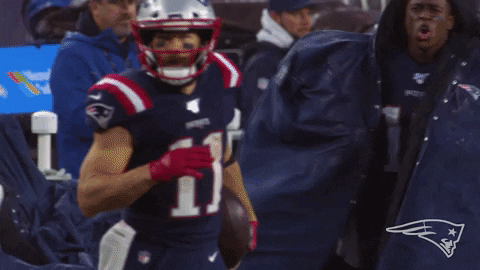 We love him because he is what a true Patriot is.
New England Patriots 2010's All Decade Team
3x Super Bowl Champion XLIX, LI, LIII
During Super Bowl LI against the Atlanta Falcons, Edelman made five catches for 87 yards. The one everybody remembers was where the pass was first tipped into the air by ATL CB Robert Alford and it appeared that it would fall incomplete, but Edelman and three Falcons lunged at the ball, and, after it bounced off Alford's leg, Edelman made the reception just about an inch above the ground. It was ruled a catch on the field and withstood a challenge from Falcons head coach Dan Quinn. It has been deemed "the greatest catch in Super Bowl history". and that catch sustained a historic comeback for the Patriots, who trailed the Falcons 28–3 late in the third quarter before winning 34–28 in overtime.
MVP of the Super Bowl LIII
#2 all time Playoff Receiving yards behind Jerry Rice
Greatest Video's ever made about Burger Time and other great topics.
As I type this I keep remembering more and more moments in Edelman's career that define the man of which we speak of. I could go on and on.
I will end my article with this:
Thank you Julian Edelman #11 Foxboro Forever ---- Edelman Forever